Report mistake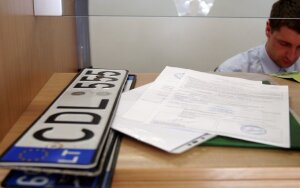 According to the system introduced in 2005, the vehicle registration plates in Lithuania contain three capital letters, which are selected alphabetically in accordance with the sequence of registration.
Atviri.lt
, referring to
15min.lt,
reports that the current attempt to introduce vehicle registration plates containing the letter combination
GEJ
(closely resembling the Lithuanian equivalent for the word "gay") has caused some controversy in registration centers.
For example, a 67-year-old man refused to register his vehicle under the new name alleging that he had always been of correct sexual orientation. "These registration plates should be reserved exclusively for gays," – said the retiree. If a driver is not happy with the originally assigned vehicle registration, he can choose a preferred combination of letters and numbers for an addition LT 50 (i.e.15 euros) fee. A registration center did not grant any exception and the dissatisfied man had to pay in order to avoid the letter combination
GEJ
. An interview with the man (in Lithuanian) can be found on
youtube.com
.
The similar situation arose several years ago, when drivers in one of the biggest Lithuanian cities massively refused to register their vehicles under the name
FAG
. The problem was solved by introducing these controversial vehicle registration plates in rural areas, where drivers were not so familiar with the negative connotation of this word. Interestingly, there is a group on
FaceBook
, called
'Road Fags'
, where people upload vehicle pictures, bearing registration planes with the word
FAG
.
There were also some considerations about whether vehicle registration planes with the letter combination GAY will be introduces. A company, responsible for the production of vehicle registration planes in Lithuania, denied these rumors. According to the representative of the company, no vehicle registration plates in Lithuania bear the letter Y, because it can be easily confused with the letter V.