Report mistake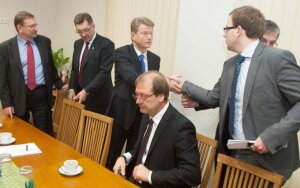 The leader of the Lithuanian Social Democratic Party Algirdas Butkevičius says, that the party had decided to vote in favour of the lifting of immunity if that was requested by the prosecutors. However, Rolandas Paksas, the Chairman of Order and Justice, another partner of the new coalition, states that for the newly assembled Seimas it will be important to determine if the case against the Labour Party "has not become political," delfi.lt reports on 15 November.
He was asked how the party is planning to vote on the immunity of Viktor Uspaskich, Vytautas Gapšys and Vitalija Vonžutaitė of the Labour Party, and Neringa Venckienė of the Path of Courage. These members of the new Seimas will gain immunity after taking the oath. Three of them have had immunity lifted before. V. Gapšys by the Seimas, V. Uspaskich by the European Parliament and later as a candidate to the Seimas and N. Venckienė as a judge and later as a candidate to the Seimas by the Central Electoral Commission.
The Chairman of the Order and Justice Party, MEP Rolandas Paksas says that the decision on lifting of immunity will be made according to conclusions of a special commission to be formed for this particular task.
Such a commission would consist mainly of the members of the new ruling coalition therefore R. Paksas was asked if that would not create a situation when the votes are cast according to the interests of the party. R. Paksas stated that he believed in the professionalism of politicians who had been elected to the new Seimas. "It is of crucial importance to determine if the case has not become political and I am fully certain that the new Seimas will clear that up."
Translated by Agnė Razgaitytė