Report mistake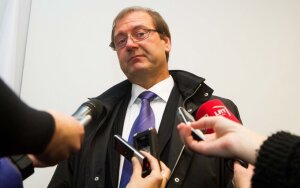 The Labour Party, which celebrated the second place in the multi-member constituency, fell to the third place in the count of the total number of seats in the Parliament, following the second round of the Lithuanian Parliamentary election, reported Šarūnas Černiauskas for delfi.lt on 29 October.
According to the initial results, the party will have 29 of its members in the Parliament. Amidst the ongoing debate over the formation of the ruling majority, it remains unclear whether the party leader Viktor Uspaskich will accept his mandate.
While Viktor Uspaskich has retained his leading position in the party's electoral list, his decision on whether to give up his European Parliament mandate for a seat in the Lithuanian Seimas will depend on the outcome of the coalition negotiations.
The President Dalia Grybauskaitė stated on Monday that she does not want to see the Labour Union within the ruling coalition. If the Social Democrats, who have won the election, will adhere to the position of the President, it is likely that Viktor Uspaskich will decide to continue managing the affairs of his party from Brussels.
A large number of those Labour Party candidates who have lost the second election round in the single-member constituencies, have secured their seats in the Parliament through the party's electoral list. Among them the Head of the Audit Committee Mrs Loreta Graužinienė, the former Prime Minister Artūras Paulauskas, Mrs Živilė Pinskuvienė, the wife of the Vice-Mayor of Vilnius Jonas Pinskus, who is one of the suspects in the prisoners' votes buying scandal, as well as Sergejus Ursulis.
The last candidate to get a seat in the Parliament through the Labour Party's electoral list is the aforementioned Jonas Pinskus. However, it is likely that Mr Pinskus will not accept his mandate as he already did this last year when he renounced his parliamentary mandate to be able to accept the position of a Vice-Mayor.
A large number of Labour Party candidates involved in the vote buying case will become members of the Parliament. In addition to Viktor Uspaskich and Vytautas Gapšys, Vitalija Vonžutaitė has also secured a place in Seimas.
If V. Uspaskich and J. Pinskus decide to renounce their mandates, their Parliamentary seats will be taken over by Vitalija Filipovičienė and Gediminas Jakavonis.
It should be noted that these are not the final results. Due to a very close race in some single mandate constituencies, the votes there are likely to be recounted. This could lead to the Labour Party gaining an additional parliamentary seat in some constituencies.
A preliminary list of Labour Party representatives in the new Parliament
1.
Viktoras Uspaskichas
Elected through party's list
2.
Loreta Graužinienė
Elected through party's list
3.
Vytautas Gapšys
Elected through party's list
4.
Artūras Paulauskas
Elected through party's list
5.
Kęstutis Daukšys
Elected through party's list
6.
Viktoras Fiodorovas
Elected through party's list
7.
Živilė Pinskuvienė
Elected through party's list
8.
Valdas Skarbalius
Elected through party's list
9.
Vydas Gedvilas
Elected through party's list
10.
Vitalija Vonžutaitė
Elected through party's list
11.
Jonas Kondrotas
Elected through party's list
12.
Jolanta Gaudutienė
Elected through party's list
13.
Darius Ulickas
Elected through party's list
14.
Zita Žvikienė
Elected through party's list
15.
Mečislovas Zasčiurinskas
Elected through party's list
16.
Sergejus Dmitrijevas
Elected through party's list
17.
Jonas Pinskus
Elected through party's list
18.
Virginija Baltraitienė
Elected in a single mandate constituency
19.
Sergejus Ursulis
Elected in a single mandate constituency
20.
Raimundas Paliukas
Elected in a single mandate constituency
21.
Petras Narkevičius
Elected in a single mandate constituency
22.
Audronė Pitrėnienė
Elected in a single mandate constituency
23.
Saulius Bucevičius
Elected in a single mandate constituency
24.
Valentinas Bukauskas
Elected in a single mandate constituency
25.
Ričardas Sargūnas
Elected in a single mandate constituency
26.
Šarūnas Birutis
Elected in a single mandate constituency
27.
Petras Čimbaras
Elected in a single mandate constituency
28.
Dangutė Mikutienė
Elected in a single mandate constituency
29.
Raimundas Markauskas
Elected in a single mandate constituency
The above information is based on the Central Electoral Commission's data from the first election round and the preliminary second round results
Translated by Ieva Indriūnaitė