Report mistake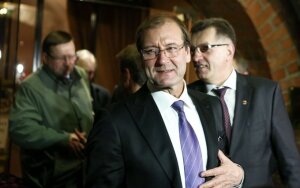 The leader of the Labour Party, Viktor Uspaskich, in an interview with TV3 show "Comments of the Week" admitted that from the Social Democratic Party he trusts only Algidas Butkevičius, appreciates the persistence of Andrius Kubilius and would invite the Liberal Movement to the coalition only for the arithmetical considerations, delfi.lt reports.
Asked if he had already spoken with the President Dalia Grybauskaitė about the coalition, Uspaskich, who received the highest electors' favour in the first round of Parliamentary elections, said that he did not speak with the President yet and does not know her opinion on his desire to become the country's Premier.
The leader of the Labour Party denied that votes-buying, as the talks about the issue grow increasingly louder, were organized and promised to exclude all the Party members that bought the votes, if only it is proven. According to him, all the Party members are difficult to control because there are about 17,000 of them.
Trusts Butkevičius
Asked about possible coalition partners, V. Uspaskich admitted that from the Lithuanian Social Democratic Party (LSDP) he trusts only the leader Algirdas Butkevičius. He also openly admitted that does not trust in Gediminas Kirkilas, the former Premier of Lithuania.
According to him, a similar situation was also in the Labour Party when some people tried to "climb to the top," but the "bottom" prevented, so the "tops" of the Social Democrats cannot do anything until Butkevičius is supported by the "bottom."
The leader of the Labour Party also said he is unafraid that the old Social Democrats leaders — for example, former Lithuanian Premier Gediminas Kirkilas — may come back in power. He doubts that Butkevičius will appoint him as the Minister; also, he is certain that the President would not confirm Kirkilas because she "knows him well."
Compliments Kubilius
Uspaskich revealed that he would invite the Liberal movement in the coalition only for arithmetical considerations, because the broader, stronger coalition is needed, and because he ranks himself to "liberal deviation."
When asked what he would do if the Liberals invite the Conservatives to the coalition, Uspaskich playfully replied that it would be "a broad coalition, everybody will be in the power." However, he assured that he would not betray the Social Democrats and the Order and Justice in favour of the the Liberals and Conservatives because they already shook hands and he is a man of his word, and while the negotiations with the Social Democrats and the Order and Justice Party are going, the Labour Party will not negotiate with anyone else.
The leader of the Labour Party complimented Andrius Kubilius, the Premier and the leader of the Homeland Union – Lithuanian Christian Democrats (TS-LKD).
"I like Kubilius, because he is the first who kept the Government for four years. It is a great plus – his persistence," said Uspaskich.
Translated by Sandra Dijokaitė
Edited by Tara Edelen