Report mistake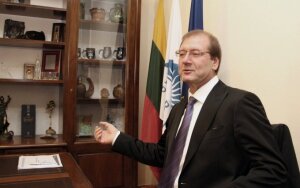 The Chairman of Labour Party (LP) Viktor Uspaskich is not inclined to reveal whether he supports some of the Central Election Commission (CEC) members' proposals to cancel the last Sunday's election results in the whole of Lithuania, but acknowledges that, if needed, he would go and vote for a second time, delfi.lt reports.
On Friday, when asked by the reporters what he thinks about the talks that CEC considers the annulment of the election results in the whole of Lithuania, and therefore allowing for Labour Party to check its support, Uspaskich did not immediately understand the question, but as it was repeated, said: "There are no such suggestions, just talks going on, but I will go to vote once more if needed."
Uspaskich also said that on Friday the Board of Labour Party will raise the question of responsibility of its members that are in the vote-buying scandal.
"You see, the Labour Party won in the first round and now there are efforts to raise a commotion, undermine poeple's confidence, etc," the chairman of Labour Party, that is currently under the financial machinations trial in Vilnius District Court, said on the vote-buying scandal.
DELFI reminds that there are a few suspects in the possible vote-buying case and one person is already arrested.
Translated by Sandra Dijokaitė