Report mistake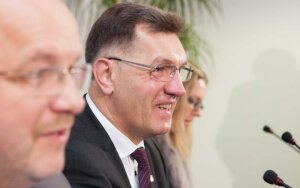 Algirdas Butkevičius, leader of the Social Democrats (who are in second place after the first voting round) is so far refusing to assess next year's budget project, which has been prepared by the current Government. According to him, next year the Government should stimulate economic growth and raise the question regarding salaries for budgeted institutions, delfi.lt reported on 17 October.
"It is very complicated to assess it when you don't see the whole project. Once we have the whole project then we can talk and discuss concretely. But still, there would be the question of what will happen with salaries, especially in those budgeted institutions where people are currently only getting the minimum monthly wage," Butkevičius said on Lithuania's radio last Wednesday.
He says that the situation in the Eurozone countrie cause some worry.
"I feel some concern regarding the recovery of the Eurozone members. There are talks that next year Eurozone states may continue with the same financial problems. These external factors can affect our country's economy,"said Butkevičius.
According to him, this is why Lithuania should seek to stimulate its economy.
"I think that we should be optimists and seek to recover Lithuania's economy as quickly as possible. If we are talking about the public sector, then we can talk about using funds from the European Union to expand the infrastructure. I believe that in the coming year the funding for this will not decrease and may even increase. It is most important that these funds give a good capital return and stimulate economic recovery in the long term," said Butkevičius.
On Tuesday, the Government approved the 2013 budget and submitted it to the Seimas. However, the new Seimas will undoubtedly make some adjustments.
Translated by Dalia Wicks