Report mistake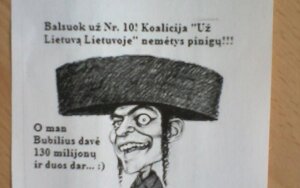 Politicians from the Nationalist Party, trying to get into Seimas with the motto "For Lithuania in Lithuania", captured the attention of the Central Electoral Commission (CEC). The CEC is investigating possible signs of ethnic intimidation, including anti-Semitic drawings and placement of swastikas that appeared in the Party's campaign materials, delfi.lt reports.
CEC member Justinas Žilinskas said to DELFI that the investigation is being initiated into the campaign materials of two Nationalist candidates, Julius Panka and Marius Galinis.
The CEC is interested in leaflets promoting a meeting with J. Panka. The leaflets are decorated with a caricature of a Jew and text referring to the decision of Andrius Kubilius' government to compensate the Jewish community for expropriated property.
The text reads, "Bubilius gave me 130 million and will give more …" Also included was the main campaign message, "Vote for No. 10! Coalition 'For Lithuania in Lithuania' will not throw the money away!"
Nationalist candidate M. Galinis purportedly distributed campaign material on which appeared a regulation suit, black shirt and tie bearing a pattern of the swastika, although the swastika on the politician's accessory is rotated in the opposite direction from those that the Nazis used in their symbolism.
According to J. Žilinskas, the CEC may decide to require the Nationalists to cease distribution of the materials or to refer the matter to law enforcement on grounds of ethnic hostility.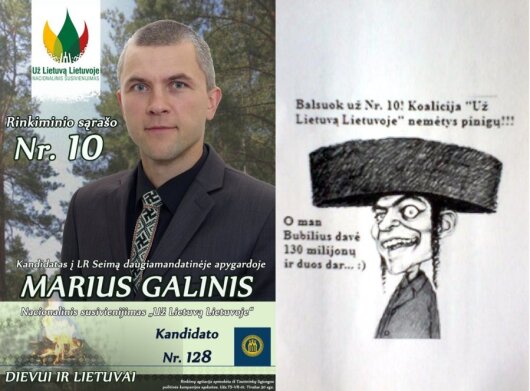 J.Panka: it is not a Jew in the picture and the swastika is Lithuanian
J. Panka, one of the Nationalist leaders whose materials captured the attention of the CEC, said he did not understand why his materials interested the CEC.
"You surprised me indeed. I think people who understand humour, will see no ethnic hostility. There was no such goal to incite, insult or hurt. The goal was simply to draw attention to the State's money which is wasted"- said the politician.
He also noted that the picture does not depict a Jew.
"Well, the picture is depicted as a caricature. I think everyone can see lots of different ethnicities. Unless (Maybe?)  a particular nation found itself in this picture. However, I did not have in mind any particular nation"- said J. Panka.
M. Galinis also does not see anything wrong in the swastika. According to his logic, in Lithuania the European Union flag should be banned, because five-pointed stars themselves can be considered as Soviet symbols.
However, he assured that he accepts the news of the CEC activities gladly. "We produced a very large number of complaints to the CEC. And they did not pay any attention. Now at least they will have a job" – summarized J. Panka.
Translated by Sandra Dijokaitė
Edited by Karen Di Prima