Report mistake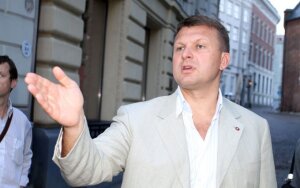 If the Latvian government takes the decision to invest in the nuclear power plant building in Lithuania, it will be the craziest action during the country's life. The former Latvian communications minister, businessman Ainars Šlesers, said this to the magazine "Bilance", announces delfi.lt.
"If the government donates a billion to Lithuania's economy, it will be the greatest madness during the whole of Latvia's history. Latvia will only take 20 per cent. And what will the Japanese and others take?" asked A. Šlesers.
The former politician believes that Latvia should not be involved in this project. "By investing this billion not there but in Latvia, the possibility to buy cheap energy there will still remain. It is illogical to invest a billion there, because 20 per cent does not guarantee control over the company" – explained the interviewer.
A. Šlesers thinks that the Latvian economy develops not because of government policies but due to the favourable situation in neighbouring markets. "The economic crisis is not completely over, instead of development, issues are raised such as "The Russians are coming", or "set free Riga from the Reds". What do the polls say online? "Demolish the Victory monument". Do we want another Alioša in the Baltic States?" – asks A. Šlesers.
In order for the country to develop, the former Minister proposes the restoration of public-private partnership opportunities that are especially important in the construction of roads. It is also necessary to adopt laws on holdings in order to compete with countries such as Cyprus and Luxembourg.
"We need to create the conditions so that businesses located outside the EU would be able to pay small taxes here, so that the companies that have some dealings with Russia, China and other countries would open agencies here, would hire people here, would create added value and would do business somewhere else", – said A. Šlesers.
Translated by Sandra Dijokaitė
Edited by Nicola Lavey