Report mistake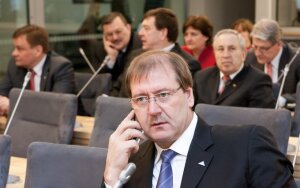 On Thursday evening, just before the live BTV show "Hot Night", the leader of Labour Party, Viktor Uspaskich, mentioned that this is his last elections, delfi.lt reports.
During the show he confirmed his decision saying that: "I ​​will go to the fourth Seimas already, it is necessary to progress. If I do not receive enough votes, this is my last election".
When asked how his retirement would affect the Labour Party, V.Uspaskich said: "The party will last forever".
The leader of Labour Party said he can easily say that if the electors and the public do not need his services, why he should persevere.
"You cannot be lovable under compulsion," he said.
On Friday, the Central Electoral Commission (CEC) will decide whether to lift the legal immunity of the four candidates to Seimas members, among them the Chairman of the Labour Party and the member of European Parliament Viktor Uspaskich.
Vilnius regional court requested that the legal immunity of Upaskich be lifted because it cannot continue to hear the criminal case.
For the same reason, Vilnius Regional Court also asked that the legal immunity be lifted of Vitalija Vonžutaitė, another defendant in this case.
Court asks CEC to allow it to prosecute these politicians or constrict their liberty otherwise.
Translated by Sandra Dijokaitė