Report mistake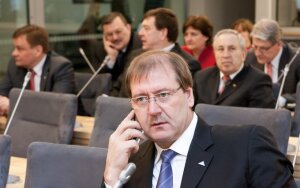 The illnesses of the witnesses and defendants of the Labour party's case, which impeded the proceedings of the case, are alleged to have been fictitious. The General Prosecutor's Office have started a pre-trial investigation regarding the forgery of the medical certificates, writes delfi.lt.
The General Prosecutor's Office yesterday launched a pre-trial investigation regarding the potential misuse and falsification of documents by the UAB AND Clinic director E. G. The prosecutor's office has determined that the Vilnius Regional Court, who examines Labour Party's so-called "black book-keeping" case, has received a suspicious medical certificate that justify the defendants V. V. absence from court proceedings, delaying the judicial process, the Prosecutor General's Office reported on Thursday.
Pre-trial investigation was assigned to the Vilnius Regional Prosecutor's Office
Gapšys: let them investigate
Vytautas Gapšys, the Vice-Chairman of the Labour Party, who is among the black book-keeping defendants, claimed to DELFI that the prosecutor's decision to initiate an investigation is a court pressure effect.
Gapšys illness also delayed the proceedings of the Labour Party's case. The politician told DELFI that he received a sick-note from a private clinic, but not the same place as Vonžutaitė.
"From the place where I was registered at the time," said Gapšys, without elaborating on the name of the medical institution.
He said he did not simulate the disease and pointed that he went to other court hearings in spite of serious ailments.
"I will give you a statement of the illness, which states that I have bronchitis and still go to court," said Gapšys. "One moment they even suspected pneumonia for me; I have problems with my health, but was still attended the proceedings. Somehow, everyone remembers only one day in four years, and does not remember those days when it was otherwise."
Clinics spokeswoman: Bad publicity is still publicity
AND Clinics Sales Director Vaida Raubienė told DELFI that she was unaware of the prosecutors investigations of the clinic.
AND Clinic Director of Commerce Mr. Raubienė looks at the prosecution statement with a kind of optimism. "Bad publicity is still a publicity for a clinic," said Raubienė half-jokingly.
Translated by Monika Mikučionytė
Edited by Sara Lischynsky