Report mistake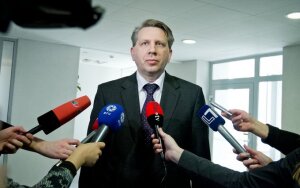 Long-term Chief of Palanga District Prosecutor's Office Nijole Pozarskiene has quit her job in protest against  reform, although her term had been extended for another two years, delfi.lt reported on 12 September.
N.Požarskienė –  who is resigning after 34 years in  office – wrote an open letter to the General Prosecutor Darius Valys criticizing his methods of management, reports newspaper Lithuanian Rytas.
"I'm not going anywhere. I'll take a rest for a month and then think about what to do next. I have never considered any other  – perhaps more profitable – work, because I love my job. I cannot continue to in my post because the so-called reform of the prosecution system has been  made at the expense of transparency, fairness and common sense.  Never before in my career have I seen a more chaotic prosecution system," N.Požarskienė told the newspaper.
She doesn't see any benefits coming from this reform and called the situation at the district prosecutor's office tragic. " In the Palanga office almost all the employees have been dispersed: two  prosecutors are now left instead of nine –  with no secretary or assistant. And we have to work in these conditions all the summer when the crime rate rises,"  the resigning prosecutor told the newspaper.
Seimas instituted reform to the prosecution process last year, changing it from a three staged to a two staged system.
Valys became General Prosecutor in 2010,  prior to that he was chief prosecutor at Akmenė District office.
Translated by Dovile Rokaitė
Edited by Anthony Peters