Report mistake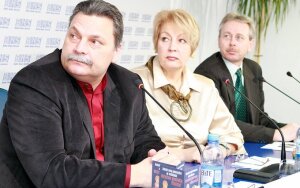 Union of Russians representatives have chosen to participate in the parliamentary elections with the Labour Party while the Russian Alliance with the Electoral Action of Poles in Lithuania (LLRA). Political scientist Nerijus Maliukevičius argues that such a decision can certainly be useful to Labourites, and the Poles, but that it also perfectly illustrates the disorganization of the Russian minority, writes delfi.lt.
"By appealing to Russian-speaking voters the Labour Party and the EAPL are acting both politically motivated and prudently. They have created the impression that the Labour Party and the Electoral Action of Poles in Lithuania will represent Russian-speaking voters in an attempt to attract their votes. The 2-party operation is completely rational but the functioning of Russian political organisations seem strange to me as it demonstrates they are fragmented and scattered," said N. Maliukevičius, Professor at Vilnius University's Institute of International Relations and Political Science, to DELFI.lt.
According to Maliukevičius it is more likely that LLRA will attract votes from Russian-speaking voters. The political scientist nevertheless states that he cannot speculate because the result will depend on many factors.
Meanwhile, Professor Algis Krupavičius of Kaunas University of Technology states that the Lithuanian proverb "where three Lithuanians are – there are five [political] parties" can be applied to the Russian minority as well.
"Lithuania has a saying, three Lithuanians – five parties. Apparently, this expression could in a way also suit ethnic minorities," said A. Krupavičius. This is in contrast to N. Maliukevičius' beliefs that the Russian-speaking population may be more likely to vote for a coalition of the Labour Party and the Union of Russians.
Translated by Monika Mikučionytė
Edited by Rachel Croucher