Report mistake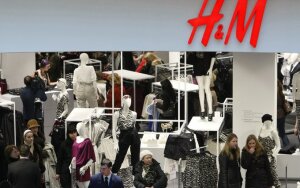 On Tuesday, retail clothing chain Hennes & Mauritz (H&M) established a branch of the network company UAB H&M Hennes & Mauritz in Lithuania.
The company is registered in Vilnius. Its manager is Karl Johan Persson and company's share capital is 10,000Lt, according to data provided by the Centre of Registers.
It was previously announced that H&M is planning to open 2 stores in Lithuania in 2013. At the end of January this year, H&M announced that Latvia will also be included in its list of new markets. The network is planning to open 275 new stores this year in Latvia, Bulgaria, Malaysia, Thailand and Mexico.
According to the Centre of Registers, there had been an agency of H&M Hennes & Mauritz in Lithuania from March 2000 to August 2008 but it was removed at the request of the owner. At that time, there had been some talk about the retailer's plans to expand in Lithuania.
A 'serious competitor'
"H&M is really a serious competitor, it is not like that it will not do any impact, but we feel pretty firm, as we invest in stores upgrading, also in certain products that will not compete with H&M," said Rimantas Perveneckas, CEO of clothing retail group Apranga, to Business News in January of this year.
The Apranga Group holds over 100 brands in youth, economic class, luxury and business sectors. In turn, Hennes & Mauritz Group, which manages five brands, brings only one of them to the Baltic States – H&M, their strongest brand.
The brand, according to Perveneckas, will not compete with the Zara stores, but rather with youth and children's clothing segment: other brands belonging to the Inditex family – Bershka, Pull & Bear and Stradivarius.
"The significant change will occur in children's clothing retail as H&M is quite strong in that field and families in Lithuania want to spend far less money on that," said Perveneckas.

Translated by Sandra Dijokaitė
Edited by Sara Lischynsky