Report mistake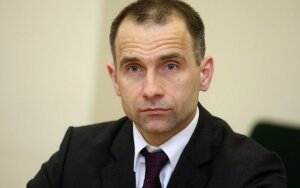 By the end of this year, it should emerge which countries' companies will agree with Klaipėda Oil on the supply of natural gas to the planned liquefied natural gas terminal, delfi.lt reported on 27 August.
This announcement was delievered by the CEO of Klaipėda Oil, Rokas Masiulis, following the liquefied natural gas (LNG) terminal project's commission meeting.
"Due to the gas supply, negotiations have already started. In the summer, we were negotiating with major gas suppliers. They visited us and we them. We discussed supply strategies, shipping characteristics, and how gas could be brought to the port of Klaipėda. We are ready for the final stages of negotiation and we hope to resolve these questions during the year," said Masiulis. According to him, there were twelve to fourteen potential gas suppliers but only five remain in the final stage of negotiation.
"Now we will disclose neither companies nor countries, in order not to affect our negotiations,"said Masiulis, adding that the gas can be supplied in a variety of ways, so there could be one or more suppliers. From now until June of next year, the most important work intended in Klaipėda is to dredge the territory near at Pig's Back Island .
"Part of the port, I must emphasize, is now essential. All other works depend on whether the port works will be done according to schedule."
Embankment construction issues will depend on the dredging of the port and whether we drive the pipeline from the terminal to the gas-main in time, so I would say that cooperation, which started well, will be the key during this project," said Masiulis. "The work is manageable and we hope it will be done in time."
The CEO of Klaipėda Oil assured that, at the moment, the most important public procurements of the LNG terminal project are published. "On Friday, the procurement for quay construction was announced, which is  essential to the infrastructure. It was the last of such huge contests," said Masiulis.
Translated by Sandra Dijokaitė
Edited by Anika Brandt