Report mistake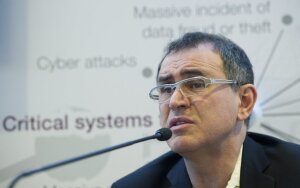 In October the Baltic Investors Forum will be held.   One of the participants is Nourel Roubini, one of the few global economists who has provisioned the 2008-2009 crisis.  He worked for the International Monetary Fund and the World Bank, as well as advisor to former United States of America President Bill Clinton, delfi.lt reported on 21 August.
The forum is dedicated to the international business development and investment environment improvement where the speakers will provide new insights into the measures and decisions to deal with the economic crisis.  President Dalia Grybauskaitė  will open the two-day forum.  N. Roubini, Mr. Mark Allen, Senior Regional Representative of the International Monetary Fund of Central and Eastern Europe, as well as Mr. Lars Christensen, the Chief Economist at Danske Bank will present the main statements and share their opinions.  The discussion will be moderated by Ms. Vendeline Von Bredow, the Deputy Editor of the international magazine The Economist.  The highlight speaker of the second day is Richard C. Koo, the Chief Economist of Nomura Research Institute.  He will speak about the causes of economic recession.  He believes that the recession is driven by private sector debt minimization, when the private sector is minimizing debt instead of maximizing profits.
The discussion of the Single European Market will be held together with Emer Daly, the Director at European Commission Governance of the Single Market, Directorate General of Internal Market and Services.  Along with the speeches, there will be also other parallel sessions where foreign and Lithuanian experts will discuss development of the Baltic region, its talent pool and attractiveness for foreign direct and portfolio investments, as well as the trends and opportunities for service centres.  The Baltic Investors Forum is expecting more than 300 business representatives from the European Union and Scandinavia.