Report mistake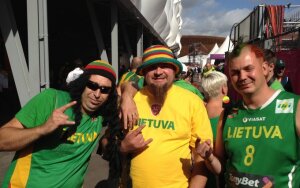 Lithuanian basketball fan Petras Leščinksas cannot get rid of the racist label, delfi.lt writes. On Wednesday, London Stratford court had not examined his complaint. After being punished for the racist gestures shown during the basketball game between Lithuania and Nigeria, P. Leščinskas is seeking for full acquittal.
"Yesterday a judge ruled that the law cannot hear the case. So far, for two weeks, she has been delaying the process – kept postponing the case. Once, she claimed she could not find the file; the other time she said she had yet not read the file. Now, she said she could not hear the case, so we will give an appeal to a higher court." – P. Leščinksas told DELFI.
He is asking the court to not only eliminate the 2,500 pound fine, but to justify him completely as well.
The fine for the basketball fan is for offensive behaviour, for making monkey sounds, performing Nazi hand movements and for other racial hatred actions. The Brits have not limited themselves with a fine: In the Olympics sport complex, P. Leščinskas has became persona non grata. He was banned from entering not only the basketball arena, but also any other London Olympic game.
P. Leščinskas himself says that he was penalized unfairly. Allegedly, Olympic game stewards improperly interpreted the gestures and slogans conventional to the Lithuanian fans, and do not understand that the gestures and slogans have no racist or Nazi implications. His explanation was supported by the Lithuanian basketball community.
DELFI points out that the Lithuanian prosecutors began an investigation of  another sports fan. During the basketball game between Lithuanian and Argentinian teams, he greeted black ushers with neo-Nazi salutes. He was dubbed by the British media as "Olympic Nazi." After this incident, organizations against racism urged to assess such cases more rigorously and to withdraw the offenders from the match immediately. Shortly after this, P. Leščinskas was arrested.
Translated by Monika Mikučionytė
Edited by Tara Edelen