Report mistake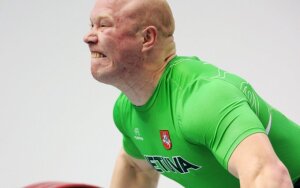 Lithuanian delegation to the London Olympic Games will be one athlete shorter – on Monday it was revealed that Lithuanian Weightlifting Federation (LWF) has lost one place in the Olympics that was won through European championship, because Aurimas Didžbalis was found having used doping.
This was confirmed by the LWF Vice-President Bronislavas Vyšniauskas to the portal DELFI.lt
"Six of our athletes were inspected this year. Five of those got negative doping results, but one weightlifter got different results. Very disappointing. I can assure that nothing was done on purpose. We all lived together and ate the same… We have learned about this recently and have sent letters and requests to the International Weightlifters Federation (IWF) regarding the situation. But it is clear that there will be no Lithuanian weightlifters in the London Olympics," said B. Vyšniauskas.
B. Vyšniauskas, who is currently on tournament with the team in Gdansk, assured that LWF will publish an official statement on Tuesday.
Lithuania had won one place in the Olympic weightlifting competition which had to go either to the European championship silver winner 21-year-old A. Didžbalis, or 35-year-old Ramūnas Vyšniauskas.
In fact, it is not the first time the doping shadow falls on the Lithuanian weightlifters, after World Championship in Thailand in 1997 methandienome metabolite was found in R. Vyšniauskas' system, which resulted in two-year disqualification.
Translated by Monika Mikučionytė