Report mistake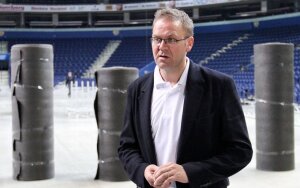 Linguists think that television executives should evaluate basketball commentator's and Lithuanian men's team spokesman's Linas Kunigėlis offer, on live television, for Olympic selection tournament organizers to "screw oneselves" ("užsikrušti") in accordance with general ethical and cultural requirements. However, the director of "Lietuvos Rytas" television Edmundas Jakilaitis says that Linas Kunigėlis did the right thing, delfi.lt writes.
"And now, perhaps only on behalf of all players, who fought here, and their supporters, I would like to say this for the organisers: screw yourselves with your defective buses, and screw all these conspiracy theories," said Linas Kunigėlis after the final siren that ended the match between Lithuanian and Puerto Rico teams.
This statement has attracted a lot of attention from online comentators, the interpretations of his phrase spread in the Facebook social network.
"In terms of language it was all correct, this word is used, it is not only in the Lithuanian Language Dictionary, but in the Contemporary Lithuanian Language Dictionary as well. As for the meaning of the word – what meaning L. Kunigėlis wanted to imply, he probably did. We will do nothing about it," – for DELFI said Ramunė Kanišauskaitė, the Chief Inspector of the State Language Inspectorate.
However, K. Kanišauskaitė thinks that  the television should assess this statemt according to the general ethical and cultural requirements.
"Personally I never use this word and certainly would never say it in public. I think that commentators should not indulge this kind of language as well. But linguists are not responsible for the public speaker's moral issues," Jūratė Palionytė, the Vice-President of the State's Commission on the Lithuanian language.
In the Contemporary Lithuanian Language Dictionary the word "krušti" is referred to as normative, meaning to crush grains in mortar; beat, break; eat hungrily, cram. However, J. Palionytė thinks that it is unlikelly that L. Kunigėlis meant any of these meanings.
E. Jakilaitis: L. Kunigėlis did the right thing
"I think he controled himself very well  – I would have said something more harsh," the Director of "Lietuvos Rytas" television E. Jakilaitis appreciated L. Kunigėlis' utterance.
According to E. Jakilaitis, the Lithuanian Journalists and Publishers Ethics Code gives the greatest possible freedom of subjectivity to sport journalists. Therefore, he says he sees nothing wrong in his speech.
"By offering them what he offered, I think that at that time he said what the whole team and all those who listened to the delusions of the trumped-up results felt at that moment. I think everything is okay. L. Kunigėlis is a very good commentator with great experience and has acted with integrity," – said E. Jakilaitis.
Translated by Monika Mikučionytė