Report mistake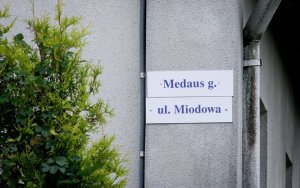 Vilnius district municipality's Board Secretary Renata Cytacka hung the street name plate only in Polish on her house in Šalčininkai district, Jašiūnai town. The caption reads "Balińskiego" street, when it should be Balinskio, delfi.lt reports referring to LNK News.
"It was purely on my request. Why Mykolas Balinskis? I can say Michał Baliński is a famous professor. When he was alive, he wrote his surname in this way – Michał Baliński. So why cannot I do the honour and write it the way he wrote himself, authentically?" said R. Cytacka.
The woman, who has a degree in law, believes that she had not violated the law, however the State Language Law stipulates that public signs must be in the official language. R. Cytacka states that the plate on her house does not correspond to the standard of street name plates in Jašiūnai, so she suggests treating the table as an element of exterior. However, the Head of State Language Inspectorate says that the caption should not be in Polish.
'In this case, the property does not matter because the municipality is responsible for public language, and all those captions, which are in the municipality's territory, must be agreed with the municipality. Another point is that the street name cannot be translated to other language because the name of the street is registered only in the Lithuanian language in the Centre of Registers," said the Head of the State Language Inspectorate D. Smalinskas.
Boleslavas Daškevičius, Director of Šalčininkai District Municipality Administration, says that home owners may face fines.
"I will ask linguists to take a look on that caption and to write a protocol," said B. Daškevičius.
R. Cytacka says that she will unhang the table, if she is proven to be wrong.
"I am obedient citizen, so if I will be convinced that I am wrong and it should be done differently, I will definitely consider it," said R. Cytacka.
Šalčininkai district municipality is currently litigating with the State Language Inspectorate concerning the tables in Polish and Lithuanian languages. The Inspectorate had won in the lower court, however the Director of Administration has appealed to the Lithuanian Supreme Administrative Court.
Translated by Sandra Dijokaitė