Report mistake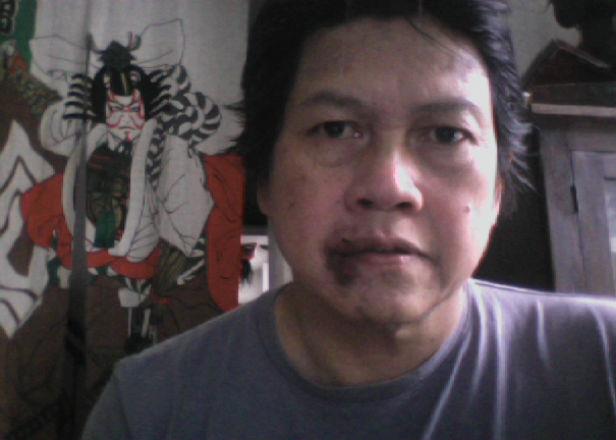 The police in Trakai have launched a pre-trial investigation into an assault of a Filipino businessman. One suspect in last Friday's incident was later detained, and identities of other assailants are being worked out.
The incident took place at around 21:30 on 29 June. According to Andy Hernandez a group of seven men entered his café and assaulted him and his wife.  They were both later taken to hospital.  A former photo reporter for the Newsweek magazine Andy Hernandez agreed to answer few questions from the Lithuania Tribune.
Could you please describe what happened on Friday night?  How did this ordeal end? Was anyone else also injured?
On Friday, June 29 at 9:30 pm, we were closing our cafe named Mojo in the historical town of Trakai. We are located in the center of town; five minute walk away from the police station and also the Trakai castle.  Mr. Stanislovas Narkevičius, known by his nickname Narkuša, entered the cafe and wanted to be served. I told him we were closed but he came in anyways.
My wife Monika told him we were closed and he then started cursing. He called me derogatory racist remarks in Russian, such as, "black ass, black prick," and called me a monkey in Lithuanian and mimicked the sounds of a monkey. I told him, "Please leave, we are closing" which you can see in the video we recorded, but he threatened Monika and myself with bodily harm and said he would destroy the cafe.
I did not know him but I suspected he was a Mafia boss because of the way he was dressed. So I used my phone to create a video of some of the things he said while he was calling his henchmen. I told Monika to call the police when he started raising his voice and the insults became worse. Then seven tough looking men came and wanted to attack me and beat me up but Monika came in front of them.
One man hit me in the face and then I was hit again on the other side of the face. I felt one of my teeth (an upper incisor, it turned out) flew out. I was pulled from the platform and punched in the ribs by three muscular guys. They used our metal wine cooler to break the glass door.
Monika came in front of me again and one guy punched her in the face and delivered an uppercut punch to her stomach. He then started pushing her and she began shouting and howling. A crowd began to gather. A friend came to our aid and got between me and the thugs, followed by an older woman from the crowd. The crowd had grown to about 30 people watching the incident so the attackers decided to leave.
I told Monika to get phone numbers from the people who witnessed the incident but no one wanted to get involved as they knew Stanislovas Narkevičius'reputation as a ruthless criminal. From what I read on the net, he recently lost a leg when a bomb exploded in his place in a botched assassination attempt on his life by a rival gang.

The police came after 30 minutes even though the station is only 5 minutes away on foot.  We went to the police station to report the incident and were told to go to the hospital to determine our physical injuries.
How do you feel now?
Currently, I feel dizzy spells from time to time, I have a missing tooth, and my sides still hurts. Both Monika and I were hurt and they broke the glass door of Mojo.
How long did you have to wait for the police?
We called the police right after he started cursing me and later called a second time. It took about 20 to 30 minutes for the police to arrive. When Narkusa called his thugs they were a lot faster than the police. The police came five minutes after the squabble with the thugs.
Were there any witnesses?
There are a lot of witnesses but none will come on record as they are afraid of Narkusa and his reputation as a criminal.
I feel that I am not the real victim of the Friday's attack but rather it is the Lithuanian society. After the mob boss and his gang beat me and Monika up, I asked Monika to gather contacts from the crowd if they were willing to testify but none wanted to get involved. Narkuša the Mafia boss is a familiar persona to me. I have met a lot of them after more than 25 years of photojournalism and, "they only succeed when they have frightened you to stay silent."
Have you seen Narkuša before?
The first time I saw Narkuša was when he came in the restaurant.
The day after the attack, I told Monika that it was very important to open our cafe to show the neighbourhood that we are not afraid. On Sunday, two people who live nearby came to recount their own horror stories concerning Narkuša and how brutal he was.
What will happen next?
I think that what happens next will be up to Lithuanian society. Will society sweep this under the rug as has always happened in the past concerning Narkuša?
Tell us a little bit about yourself.
I was a photographer for Newsweek Magazine for 18 years covering mostly conflict situations. I came to Lithuania to cover the Independence movement and met my future wife. I am now in the restaurant business.