Report mistake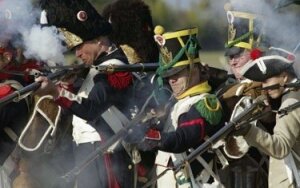 On June 23rd, history lovers from all around Europe will invade Kaunas for an impressive spectacle to mark the anniversary of Napoleon's crossing of Nemunas, delfi.lt reports.
According to current data, 818 history lovers will take part in the event. Almost half of them will be from Russia. (The role of Napoleon was entrusted to a guest from Russia, too.) Apart from Lithuanian representatives, war history lovers from Poland, Belarus, Latvia, France, and Czech Republic will take part in the event.
"Regarding the number of the guests, this is going to be the largest war history celebration in Kaunas," Sigitas Sidaravičius, the director of Kaunas Region Tourism Information Centre, told DELFI.
It is planned that 42 horses will participate in the staging of the crossing battle; also, 25 cannons will be used and 400 authentic tents will be built in the Santaka (confluence of Neris and Nemunas rivers). During the three-day celebration, around 200 kilograms of black gunpowder will be fired from artillery cannons.
The main event will take place on Saturday, June 23rd, on Nemunas Island. A pontoon bridge, which will be used for the crossing of the "Napoleon army," will be built across Nemunas; the "Russian army" will meet the arrivals on Nemunas Island and a reconstruction of the battle will take place.
On June 12th, table practice took place and solutions for potential complications were discussed in Kaunas municipality.
In June 1812, Napoleon Bonaparte, the Emperor of France, crossed Nemunas with his extensive army on his way to Russia. According to some historians, it was the most successful river crossing operation in war history – not a single soldier died or a single carriage drowned during the four-day crossing.
Translated by Ieva Krivickaitė
Edited by Tara Edelen