Report mistake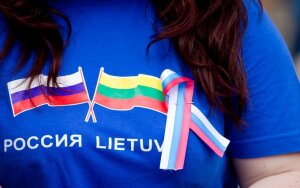 About 76 percent of Russians, living in Lithuania, say that they trust Lithuanians, ru.delfi.lt reports. 65 percent of Poles are of the same attitude. Most trustful is the Belarusian minority with 85 percent.
Absolute majority of Lithuanian Russians trust other members of their own nationality.
These conclusions are based on the ENRI-VIS survey data. The makers of the survey wanted to find out how representatives of national minorities respond to one or another ethnic group in Western European countries.
To the question "Do you trust people in general?" 73 percent of Lithuanian Russians responded positively. 70 percent of Lithuanian Poles, 85 per cent of Belarusians, 83 percent of Lithuanians living in Kaliningrad, 84 percent of Ukrainian Poles, and 86 percent of Polish Belarusians said they trust people.
In addition, the aim was to see the attitude of ethnic minorities towards Lithuanians in their country. According to the results, around 76% of Lithuanian Russians indicated that they trust Lithuanians. 65% of Poles and 85% of Lithuanian Belarusians think similarly. Latvians are trusted by 63% of Russians living in this country; Hungarians – by 86% of Hungarian Slovaks; Poles – by 88% of Ukrainians living in Poland.
National minorities were also asked what is their attitude towards people who live in their historical homeland. Around 89% of Lithuanian Russians declared that they trust Russians living in Russia. 74% of Lithuanian Poles trust the Poles in Poland, an 90% of Lithuanian Belarusians their nationals in Belarus.
There is a high degree of mutual trust among ethnic minorities. About 80% of Lithuanian Russians trust each other.  The rate is lower for local Poles – and higher for local Belarusians – 90%.
70% of Latvian Russians claimed that they trust each other. 83% of Lithuanians, living in Kaliningrad, trust each other.
Translated by Ieva Budvilaitytė
Edited by Maria Arguelles