Report mistake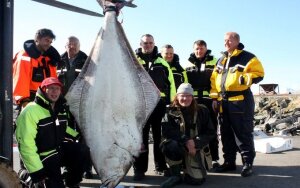 Two Lithuanians had a very lucky catch in Norway – a halibut weighing almost 170 kilos, writes delfi.lt referring to Norway's press.
Two friends thought they each caught a big fish, but they were wrong. They both caught the same enormous fish.
"It's an extraordinary story", – says Sonja Karlsen which was fishing together. – "There have been times when a few people catch the same fish at the same time, but it had never been this big".
The dream catch was caught on 3 May in North Norway, near Tromsø. It took 20 minutes for Gintaras Sereiva and Vykintas Juraitis to fish out the halibut weighing 167.9 kilo and being 2.3 meters long.
"The biggest halibut caught by a Lithuanian weighed around 140 kilos", – said G. Sereiva.
Translated by Asta Kurulytė